Here's a Nook Freebie that is entertaining me this weekend. I just started it and am already 100 pages in. The time that it's written in in 1988 from the voice of a girl called Charlie who is a High School Freshman. I started 9th grade in the fall of 1988 so I think that is what attracted me to the book.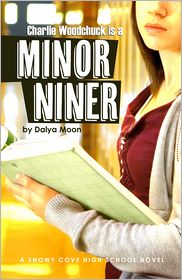 Overview - It's 1988, and Charlie Woodchuck is the most minor of niners. At thirteen, she's the youngest girl at Snowy Cove High School, and so clueless, she wore leg warmers and acid-wash jeans on her first day. Big mistake! Almost as big a mistake as signing up for a boys-only shop class. Doy.

Just when she thinks the first week of high school can't get any more weird, Charlie discovers she may be adopted. According to her Science textbook, her eyes should be blue, not brown.

Now the girl with the boy's name will have to use her detective skills to uncover the mystery of her identity. She'll need the help of best friend Stacy, expert blackmailer, and new friend Ross, expert class clown.

Before the year ends, Charlie will face down the biggest bullies of all: the all-powerful members of Snowy Cove's School Board. The Board doesn't like what Charlie's been up to, and they're all out of doughnuts.
ALSO for Amazon Kindle users
CLICK HERE
(make sure it's still free)
In other news - I
I even found my design wall!! Who knows, maybe by the time Monday rolls around I'll have it hung up and can take a photo to share in JudyL's weekly show-n-tell design wall Monday posts. lol
Love from Indiana!